What's Normal for a New Hardwood Floor
A new floor completely changes the look of a room. And if you've never had hardwood before, you might wonder what's normal for a new hardwood floor. Here's what you should expect to see, now and as the floor ages.
Natural Variation
Because wood is an organic product, no two boards are the same. So variations in wood grain, shading, and knots are normal — that character is what gives hardwood its beauty. Some wood species have more of these characteristics than others, and stained finishes (as opposed to clear) will give the boards a slightly more uniform look.
Natural Aging
Part of the beauty of hardwood flooring is that it darkens in color with exposure to natural and artificial light. Some species, especially American cherry and most exotic imports, are especially sensitive to sunlight. The darker the stain, the less obvious aging will be — but it's normal for all hardwood floors to darken a bit as they age.
Whole Floor vs. Samples
Expect your new floor to look slightly different from the samples you saw. The sample has obviously aged longer than your floor, and its small size can't exhibit all the color and grain variations you'll see in the hundreds of square feet of floor in your home.
High Edges (Overwood)
With a factory-finished floor (where the finish is applied to boards before they're installed, as opposed to applied on-site), you get the advantages of a thicker, harder finish and a finish warranty. But keep in mind that a factory-finished floor can't be sanded after installation to make sure the boards are exactly level. So any irregularities in your floor joists, sub-floor, or the floor planks themselves may cause some to sit slightly higher than others.
Putty & Filler
Putty and/or filler are used on every hardwood floor. Unfinished floors are filled and/or puttied before the finish is applied. Since factory finished floors must be installed with the finish in place, colored putty is used to conceal face. It shouldn't stand out a lot, but you'll probably notice it if you're looking for it.
Finishes: Floor vs. Furniture
Should you expect a furniture finish on your floor? They're both wood, right? But furniture and floors, even if made from the same wood species, won't look the same. Flooring allows more natural grain than furniture, including pores and knots. And flooring finishes, unlike furniture finishes, are coarser so they can withstand foot traffic.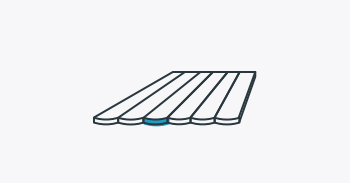 Cupping
If your floor boards are cupping, you have a moisture issue. This could be from a wet basement or crawl space, a plumbing leak, or too much humidity in your home. You'll want to find the source of the moisture and correct it as soon as possible.
Gaps Between Boards
The most common cause of separation between boards is home heating systems, as floor boards can shrink a bit as they dry out. The best way to minimize this gapping is to maintain consistent humidity in your home. The National Wood Flooring Association recommends keeping it between 35 and 55% relative humidity year round.
Maintenance & Warranties
Follow the manufacturer's recommendations for proper care and maintenance to maintain your warranty and keep your floor looking its best.
Maintaining Hardwood Floors
Regular cleaning, and protecting against scratches and dents, will set your new floor up for a long, beautiful life. In addition to your manufacturer's warranty, see our do's and don'ts for taking good care of your hardwood.