Selecting the Right Floor for You
Wood-look vinyl planks. Geometric-patterned carpet. Natural stone. With so many options available, how do you select the right floor for your home? 
In our nearly 85 years of helping customers select their perfect flooring, we've learned that the way you use a room dictates what you should consider. So we always start by asking which room you're re-flooring. Your RiteRug specialist will give you a personalized recommendation, but here are some tips to point you in the right direction.
Kitchens
Kitchens are generally high-traffic, high-function areas that need frequent cleaning, so a durable floor that's easy to clean is a must. With all the cooking and dishwashing that goes on, you also want moisture-resistance. For those reasons, tile, luxury vinyl, and laminate are all popular choices. You'll also want to consider the color and style of your cabinetry, backsplashes, countertops, and appliances.
Bathrooms and Laundry Rooms
Like kitchens, bathrooms and laundry rooms have more moisture exposure than other rooms, making carpet and natural hardwood less desirable. Tile, luxury vinyl, and laminate make wet messes easier to clean. Because these rooms tend to be smaller, this might be a good opportunity to splurge a little and select a style or pattern that adds visual flair.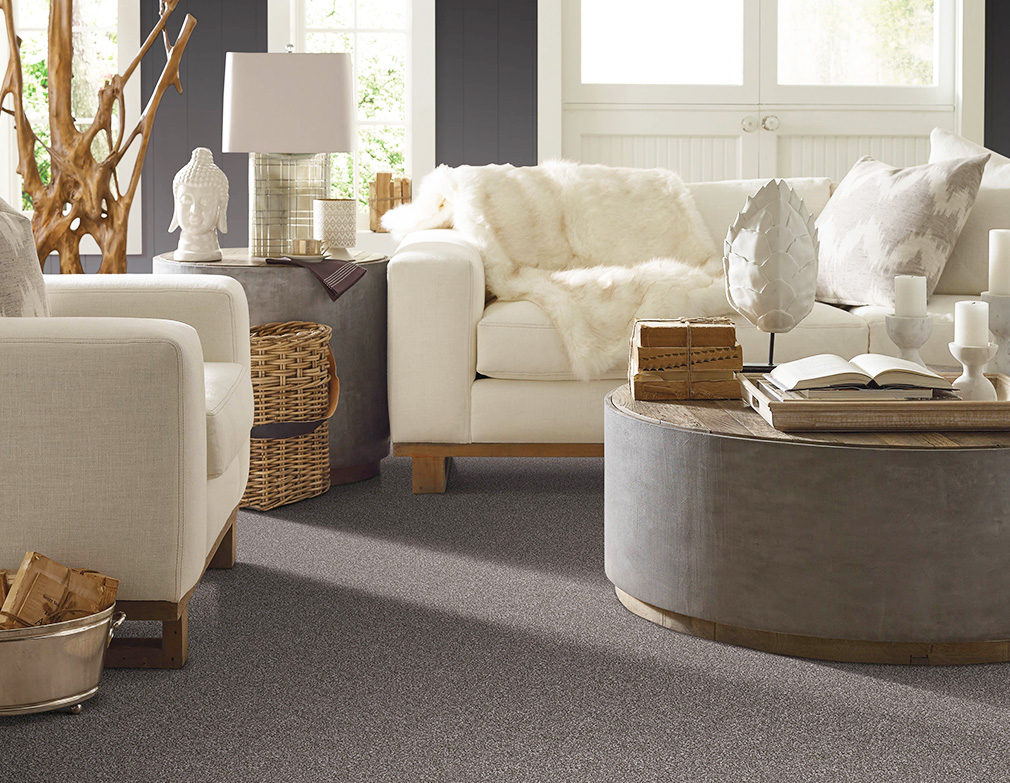 Family/Living Rooms
If you're like most homeowners, these are the rooms where you spend the most time relaxing or hanging out together. You'll want to balance comfort with your home's architectural style and your decor. If you want a cozy space, carpet is a great option. If you're creating a more formal space, or have other elements like a fireplace surround you want your floor to complement, consider options like natural or engineered hardwood and tile. Young kids or pets? Ask your specialist to recommend stain-resistant materials. Lots of windows? Think about fade-resistance. And since living spaces generally have a larger area than other rooms, measure the dimensions of your space and consider your budget.
Dining Rooms
Where food is involved, hard surfaces are generally better. Consider durability (so many chair legs!), stain resistance (who dropped that sauce-covered meatball?) and ease of cleaning (daily crumb patrol). But the choice between hardwoods, tile, luxury vinyl options, and laminate depends a lot on your style and budget. Think bamboo plank in a minimalist space, ceramic tile under a Tuscan trestle-table, or wood-look luxury vinyl that complements your antique hutch. If your dining room opens onto your kitchen or living room, consider the view into these spaces as well.
Bedrooms
Because bedrooms are lower-traffic areas, durability is usually less of a concern. But you might want to consider sun exposure, if you have a lot of windows. What kind of atmosphere do you want your bedroom to have? Is it the serenity of smooth hardwood or the luxury of a high-pile carpet between your toes? Bedrooms are great opportunities to play with textures and patterns. Be sure to tell your flooring specialist about your decorating style and color scheme. And given how much time we spend in bed every night, ask for recommendations if allergies are an issue.
Hallways/Stairwells
These spaces funnel people through your home, so they're definitely high-traffic areas. They're great places to add some texture or patterns that can draw the eye up and help disguise dirt. Carpet can reduce the noise of footsteps if you have squeaky stairs or dogs (or kids!) that chase each other everywhere. Also think about the view into other rooms. If the hallway or stairwell leads directly to rooms that all have the same flooring type, consider using that type of flooring here for visual consistency.
Basements/Rec Rooms
Finished basements are often used as family lounging or recreation spaces. If you're using yours as a game room or bar, hard surface flooring might be a good choice for chasing ping pong balls or pulling up a barstool. But if it's your home theatre space, you might prefer the comfort of carpet. You'll want to consider if the space is waterproofed, since moisture exposure is common in basements. Many people prioritize affordability in basements, especially when the space is large, which makes beautiful and durable laminate a popular choice.